1. Marble material, the hard texture of marble is matched with the soft texture of leather seats. The hard texture of marble combined with the soft texture of the leather seats gives a gritty feel. The indifference of marble has the delicate texture of leather to heat it up. Unfortunately, there are rigid marbles that make up for it. The softness of marble and the peculiar luster of leather always reveal its noble qualities. The wooden table and metal feet keep the whole table and chair from looking too heavy.
2. Mahogany material, if you are still a very special person in your life, you should definitely have a unique mahogany table. When it comes to which dining table is good, mahogany is an essential choice. Beautiful in appearance, with an old and rich smell, and with style for everyone, a dining set is definitely eye-catching; it is sure to attract a lot of admiration even in a modern and stylish family. Today, the mahogany dining table is filled with fish and dragons. If you want to buy a mahogany dining table, you have to find a legitimate manufacturer to sell it!
3. Rattan material, if you want the most natural and natural home environment, you can consider a dining table made of rattan material, which dining table is good? Besides marble, mahogany and rattan are our third As the main material form, what are the advantages of rattan table? First of all, it is simple, natural and unique. Nowadays, to achieve a perfect fashion life, rattan dining table is almost a big trend, it has many advantages, such as fashion, elegance, sophistication, wear resistance, heat resistance and so on. You can have a rattan table!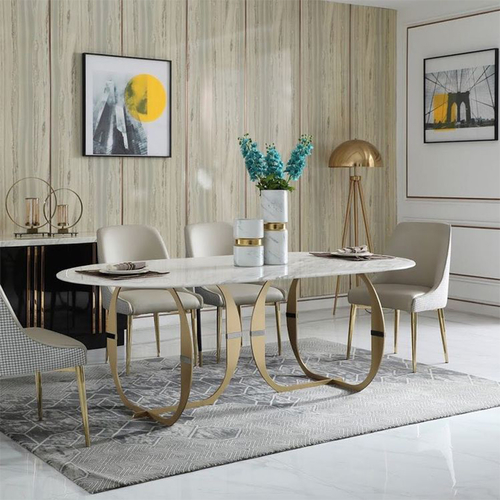 4. Glass material, when it comes to glass furniture products, we should use most of the coffee table products, then, with the theme of the best dining table materials today, glass tables are also one of the protagonists of today. For a few days, glass dining tables are the main What are the advantages of dining table materials? Glass dining tables can be combined well with other types of furniture. Clean, clear lines and transparent visuals make it stand out and discreet. The living room furniture is exquisite and exquisite, with unique functions, and the appearance is unique and dazzling.
Jiaxing Ruijing Furniture Co., Ltd.
 are 
China Dining Tables Factory
 and 
Dining Tables Manufacturers
 from past (11) years,we have strong supply chain with 3 factories. We delivers modern and traditional home furnishings for all styles budgets and rooms.we have focused on providing not only beautiful furniture but also functional designs that provide good storage solutions. We have successfully obtained the certification standard and procedure of ISO9000/14000/18000/CA. We have close cooperation with internationally advanced heavy equipment manufacturers including HOMAG of Germany and MULTKA of US. We introduce advance equipment and technology and improve production technique and capacity. Our collections include furniture for bedrooms, home office, living rooms, dining rooms, and for any room of a home.Our strength allows us to provide Dining Tables in any fabric, color, or finish of your choosing. Our 
wholesale Dining Room Tables
 are widely recognized and trusted by users.